---
Hulda Clark robs Tijuana woman of chance to survive deadly cancer!
How Hulda Clark Victimized My Parents
by Patricia Chavez

Hulda Clark, the unlicensed naturopath whose book Cure for All Cancers states that all cancers can be cured within 5 days. Shortly after being diagnosed with osteosarcoma (a bone cancer), the mother refused standard treatment and went to Clark's Mexican clinic instead. The article describes how, after more than a month, Clark pronounced that the mother was cured and advised her not to get an MRI because because even though her malignancy had been killed it would take time for the tumor to reduce in size. Several weeks later, an MRI showed that during Clark's treatment, the tumor grew to two-and-a-half times its initial size.
"I strongly believe that if she had not undergone Clark's treatment and had sought treatment from a real doctor from the beginning, she would be probably be alive today. Clark robbed my mother of any real chance of survival. She is absolute and total fraud. She told my mother she was cured? Yes, cured and that her malignancy was gone. Now, my mother is dead.

I find it frightening that despite of all of Hulda Clark's legal troubles, she has been allowed to continue to treat patients for many years. I am absolutely appalled that she has affected so many lives and continues to do so. She preys on people's desperation and fears. Hulda's treatment is cruel and inhumane. Extractions, cavitation scrapings, horrid living conditions in a cheap motel, and the list goes on. Something needs to be done to stop her from doing this to other people."
---
Tax liens filed in California against Patrick Timothy Bolen and Jan Bolen
Over the last 18 years individuals, local authorities, State and Federal governments have been after Tim and Jan Bolen for problems paying their bills, and taxes.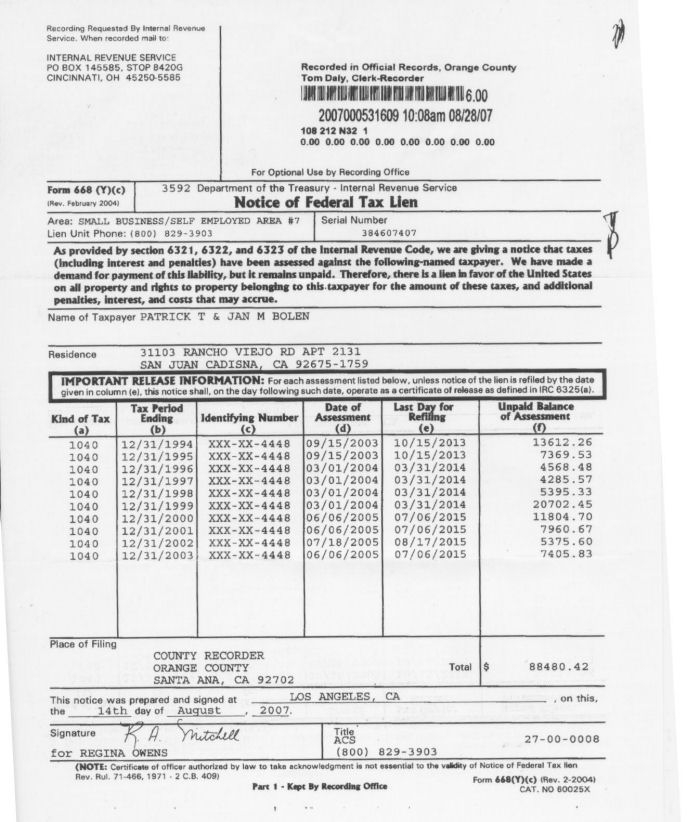 Notice of Federal Tax Lien - The IRS filed the lien in Orange County, California in Santa Ana on August 14, 2007. The total amount was $88480.42. Additional penalties, Interest, and costs may accrue.
It's interesting that Tim and Jan's problems spanned nine years. During this period, Tim represented Hulda Clark.

Summary of liens and releases since 1989
08-28-2007
 2007-00531609
 BOLEN PATRICK T
 U S A INT REV
 NOTICE FED LIEN
 GRANTOR 

08-28-2007
 2007-00531609
 BOLEN JAN M
 U S A INT REV
 NOTICE FED LIEN
 GRANTOR 

05-03-2006
 2006-00298924
 BOLEN JAN M
 CA ST FRANCHISE TAX
 NOTICE ST LIEN
 GRANTOR  

11-21-2003
 2003-01412988
 BOLEN PATRICK TIMOTHY
 CA ST EMPL
 RELEASE
 GRANTEE 

11-21-2003
 2003-01412988
 BOLEN PUBLISHING
 CA ST EMPL
 RELEASE
 GRANTEE 

12-19-2000
 2000-00689106
 BOLEN PATRICK T
 CA ST FRANCHISE TAX
 LIEN STATE
 GRANTOR 

08-21-2000
 2000-00436275
 BOLEN PUBLISH
 CA ST EMPL
 RELEASE
 GRANTEE 

09-29-1997
 1997-00481477
 BOLEN PATRICK T
 CA ST FRANCHISE TAX
 LIEN STATE
 GRANTOR 

07-22-1996
 1996-00370649
 BOLEN JAN M
 U S A INT REV
 LIEN FEDERAL
 GRANTOR  

07-22-1996
 1996-00370649
 BOLEN P TIMOTHY
 U S A INT REV
 LIEN FEDERAL
 GRANTOR 

07-22-1996
 1996-00370649
 BOLEN PATRICK T
 U S A INT REV
 LIEN FEDERAL
 GRANTOR 

08-01-1996
 1996-00394767
 BOLEN PATRICK T
 CA ST FRANCHISE TAX
 RELEASE
 GRANTEE 

04-04-1996
 1996-00166491
 BOLEN PATRICK TIMOTHY
 CONG THOMAS E
 MECHANIC LIEN
 GRANTEE 

04-04-1996
 1996-00166491
 BOLEN PATRICK TIMOTHY
 CONG THOMAS E
 MECHANIC LIEN
 GRANTEE 

04-30-1996
 1996-00215330
 BOLEN PUBLISH
 CA ST EMPL
 LIEN STATE
 GRANTOR 

03-01-1995
 1995-00081638
 BOLEN JAN M
 DOBRINSKI ED
 ABSTRACT JUDGMT
 GRANTOR 

01-09-1995
 1995-00008040
 BOLEN PATRICK T
 CA ST FRANCHISE TAX
 RELEASE
 GRANTEE 

12-01-1995
 1995-00531356
 BOLEN PATRICK T
 CA ST FRANCHISE TAX
 LIEN STATE
 GRANTOR 

11-15-1995
 1995-00507849
 BOLEN PATRICK TIMOTHY
 CA ST EMPL
 LIEN STATE
 GRANTOR 

11-15-1995
 1995-00507849
 BOLEN PUBLISH
 CA ST EMPL
 LIEN STATE
 GRANTOR 

04-20-1994
 1994-00276638
 BOLEN JAN M
 ASGT TRUST DEED
 GRANTOR & GRANTEE 

03-29-1994
 1994-00220021
 BOLEN PATRICK T
 NOTICE DEFAULT
 GRANTOR 

04-20-1994
 1994-00276638
 BOLEN PATRICK T
 ASGT TRUST DEED
 GRANTOR & GRANTEE 

07-18-1994
 1994-00457826
 BOLEN PATRICK T
 NT TRUSTEE SALE
 GRANTOR 

10-18-1994
 1994-00617824
 BOLEN PATRICK T
 FEDERAL NATL MTG ASSN
 TRUSTEES DEED
 GRANTOR 

11-03-1994
 1994-00645782
 BOLEN PATRICK T
 CA ST FRANCHISE TAX
 RELEASE
 GRANTEE 

11-30-1994
 1994-00690066
 BOLEN PATRICK T
 CA ST FRANCHISE TAX
 LIEN STATE
 GRANTOR 

03-23-1992
 1992-00174088
 BOLEN TIM
 CAL ST FRANCHISE TAX
 LIEN STATE
 GRANTOR 

10-14-1991
 1991-00560546
 BOLEN PATRICK TIMOTHY
 ASGT TRUST DEED
 GRANTOR & GRANTEE 

10-26-1989
 1989-00578106
 BOLEN PATRICK T
 EMPIRE OF AMER REALTY CR
 CORP BFC TRUST DEED
 GRANTOR 

11-21-1989
 1989-00634984
 BOLEN PATRICK T
 RECONVEYANCE
 GRANTEE 

10-26-1989
 1989-00578106
 BOLEN JAN M
 EMPIRE OF AMER REALTY CR  CORP BFC
 TRUST DEED
 GRANTOR 

11-21-1989
 1989-00634984
 BOLEN JAN M
 RECONVEYANCE
 GRANTEE 
Cyberstalking and lies by Tim Bolen
Bolen Report takes aim and misses
On or about May 2, 2007 Tim Bolen issued one of his monstrous attacks about myself and others in his Bolen Report. His tactic is to destroy me professionally and personally, and that has been his goal ever since he was hired by cancer quack Hulda Clark many years ago. He has again threatened me with bodily harm. He did this with intent, in order to provoke me into taking some kind of action against him.
Mr. Bolen will continue his bloody lies until one day he will face the consequences. Mr. Bolen pretends that he was never in any conspiracy to defame me. Unfortunately, this has never been proven in any court because Bolen has never taken an oath in front of a judge. But his depositions in our case and in others along the way are so full of holes that one can only imagine what goes on inside his head.
A deposition of Mr. Bolen in the Cavitat case showed that he is living outside the law on Federal land in California, has admitted misstating his business information with regard to tax authorities, and admits he has been making false statements about Dr. Barrett and Dr. Baratz for many years. He had claimed multiple violations of the law by both of them, and when asked under oath to give one example, he could not.
Patrick T Bolen's deposition in the Cavitat case. It's in Adobe .pdf format - 339 pages
This document includes the following testimony:
Bolen resides in and operates his JuriMed business from a house he leases in the Cleveland National Forest.
He moved there seven or eight years previously after losing his home in a foreclosure sale.
He routinely deducts personal expenses as business expenses.
He could not remember which income tax returns he had filed during the previous five years.
Bolen has vocally supported some major losers over the years. Almost all of the healthcare professionals that he sided with are no longer able to practice their profession with impunity. Some have had their licenses stripped by their State regulators. One of the companies that he has championed, Cavitat, has declared bankruptcy (and he was a shareholder in that one).
Tim and Jan Bolen's abode
26 Hot Springs Canyon Rd
San Juan Capistrano, CA 92675
Business use of a National Forest home site is illegal. So if there are any Federal process servers who need directions to his home they can be found.
Just click here to get a birds-eye view of the topography that surrounds his wonderful rented cabin.
For an even better look use Google Road Map or perhaps another overhead scenic view. Follow the many links below to the original lawsuit against Bolen, Hulda Clark and others for details.
If you would like to help to bring justice in this matter kindly follow the links above and let us know what you can do to set the record straight.
---
---
Hulda Clark Lawsuit Reinstated
Appeals court upholds suit against Hulda Clark and her attorney.
The California Court of Appeals has reinstated a malicious prosecution suit that Dr. Stephen Barrett filed in December 2002 against Hulda Clark and attorney Carlos J. Negrete.
Clark is an unlicensed naturopath who claims she can cure cancer, AIDS, and other serious diseases with a low-voltage electrical device and various herbs. [Barrett S. The bizarre claims of Hulda Clark. Quackwatch, Nov 9, 2004] Barrett is suing her for libel because she hired a "publicist" who has been attempting to destroy his reputation by spreading false and defamatory statements about him [Barrett S. A response to Tim Bolen. Quackwatch, March 18, 2005]. In 2001, Clark filed a malicious cross-complaint in which she accused Barrett, his wife, and many other defendants with "racketeering" and a long list of other crimes and civil wrongs they did not commit. [Barrett S. Bogus "anti-quackbuster" suit dismissed: Why I am suing the lawyer who filed it. Quackwatch, March 18, 2005] In 2003, a lower court judge dismissed the malicious prosecution suit on grounds that Barrett not had presented enough information to conclude that Clark and Negrete knew the cross-complaint was groundless.

In reversing the lower court decision (see below), the Appeals Court used these words to describe their reasons why the original court should go to trial:

"the scurrilous nature of the defendants' allegations of wrongdoing and their efforts to publicize them widely on the Internet, when coupled with their utter failure to offer any proof of their charges"

[Appeals court upholds malicious prosecution suit against Hulda Clark and Attorney Carlos Negrete. Quackwatch, March 22, 2005]
---
Bolen doesn't know fact from fiction
For those of you who don't know who Patrick Timothy Bolen is, or what he believes, get ready for a shock. He has taken positions in defense of numerous medical and dental professionals who have been at the leading edge of quackery and consumer fraud. He misrepresents legal proceedings at every turn. It seemed to start when he was brought on the Hulda Clark team to keep her from going to jail for practicing medicine without a license. But, it hasn't stopped there. If you have been defamed, libeled or mentioned in any of Bolen's bizarre, and disjointed rants on the internet, you can help set things straight. You can help us sustain the defamation and libel lawsuit in California against Tim Bolen, Hulda Clark, and their associates.
---
Cyberstalking by Tim Bolen and
other natural health bullies
Comments by Terry Polevoy, MD
February 9, 2005

Link to original article on the HealthFraud list. Feel free to join the debate.
Appeal for help by Terry Polevoy
I was recently threatened again via e-mail and through posts on the internet by Tim Bolen who lives in the San Juan Capistrano area of California. Bolen has represented some pretty shady characters over the years, and he claims hundreds of thousands, no make that "millions of health freedom fighters" are following his crusade. Unfortunately for Bolen, he just doesn't realize how untenable his position has become. A few days ago his newsletter showed up on a Usenet group's archives. These personal assaults were reported officially where they should be, to the individual ISPs, the e-mail services and to the police.
Bolen the Dumb and Dumbest
vs.
The Polevoy Factor
Comments by Terry Polevoy, MD
February 5, 2005

Tim Bolen's latest rant entitled "Stalker" Polevoy; The Quackbuster's Nut Case?... supports our contention that Bolen may have something materially either wrong somewhere between his ears, or he is plainly and simply one half of an evil twin. He's Dumb and Dumbest. His latest creation has all the right Timboisms, and is on par with his attacks on Bob Baratz, and Stephen Barrett. Timbo wasn't finished on February 4th with his rant, he enlisted a mailorder unlicensed naturopath by the name of Owen Fonorow who runs The Bolen Report to place Dr. Polevoy's picture on his own site. Could it be possible that AIT.COM, his ISP would pull the plug?
Bolen - The Great Defamer
Comments by Terry Polevoy, MD
January 25, 2005

If you were Timbo, operating your nefarious business out of a mailbox in California, you would claim that you send out 200,000 copies of the infamous Millions of Health Freedom Fighter newsletter across cyberspace. Of course there is no way that an ISP would allow that kind of traffic especially when his rants are full of lies and defamatory comments about a lot of people.

It's not the first time his right to spam and/or defame has been challenged. In 2003 Advanced Internet Technologies , an ISP in North Carolina canned him for spamming and he made ridiculous threats against Julien Haight of Spamcop.com. Bolen gave them what he calls a "legal warning" and told them:
"I own the internet newsletter "Millions of Health Freedom Fighters - Newsletter." You have engaged in activities blocking the dissemination of that newsletter to my subscribers. You are to cease that activity immediately. Should you fail to comply, you, and any who rely on your DUBIOUS service, can and will be SUED for all that you may own. My internet newsletter, broadcast from California, complies with ALL existing SPAM laws, and by definition laid down by California legislation. You are violating, and with those who use your service, conspiring, to violate my Civil Rights. You are to cease that activity immediately. I am well aware, Mr. Haight, that you are in hiding, avoiding your legal responsibilities in regards to your so-called anti-SPAM activities. I suspect that you are now, knowingly, or unknowingly, and will continue in the future to be in the employ of, those anti-American agents who deplore United States citizen's right to free speech.

If I have to go to court, I'll seek an injunction shutting down your operation. Since you are in hiding, consider how difficult it will be to oppose my Motion. And when the Judge issues the order, I will simply send the Court Order to everyone you do business with. I will also get a copy to every REAL spammer I can find to use against you. I consider the issues I deal with to be much more important than yours."
But, when Terry Polevoy faced the latest insane charges by Bolen in the January 23, 2005 edition of his newsletter it became more than just a bloody game.
"Will the "Quackbusters" Survive 2005?...",
www.quackpotwatch.org/opinionpieces/quacksurv2005.htm


Bolen is obviously intent on destroying Polevoy any way he can. This is the work of someone who either really needs professional help or his mind is so diabolical that he knows no bounds. He's like a judge at the Spanish Inquisition. Bolen will tell the world that those who are either against him or his friends should all be burned at the stake. It matters not to Bolen and his ilk that none of their trumped-up charges have any basis in fact. Bolen is not just a conpiracy nut, he conspires with others to destroy lives. He has been doing it for years.

This guy doesn't give a damn about a public debate on any issue, his only reason for existance is to defame others while he defends crackpot, misfits, and bad health care professionals who are at the end of their ropes. Just for the record, here is what Patrick Timothy Bolen had to say about Terry Polevoy on January 23, 2005. Of course not a single statement is true:
"The other, is Terry Polevoy MD of Canada. Polevoy, at one time, I believe, was the heir-apparent to the quackpot throne, but was pushed out when Baratz was brought into the top echelon.

Polevoy was once a Pediatrician, but has apparently been reduced in the Canadian health system to "acne care" - hence the sobriquet "Pimple Popper Polevoy," after he was accused (by his own admission) in a child molest incident.

Polevoy is considered to be pretty much of a clown, even I think, among his quackpot peers. His favorite thing seems to be to affect a disguise, and skulk around "alternative" health fairs surreptitiously photographing everything in sight.

Several years ago Polevoy stalked Canadian Radio personality Christine McPhee, and informed her of that action by e-mail, until McPhee, afraid for her personal safety, called in the police."
On January 24th after Terry Polevoy filed a complaint with Servepath.com, his latest ISP in California. Tim e-mailed him using his Earthlink.com account, and copied Trueman Tuck who is from Belleville, Ontario and maintains a web site called TaxTyranny.com which was specifically designed to bring Polevoy down, whatever that means.

When Terry received this vicious e-mail, he contacted Servepath.com again with a further complaint, and reminded them that Bolen has a history of being kicked off other ISPs in the last year or so.
On January 28, 2005 Bolen threatened Dr. Polevoy again via e-mail and again sent copies to Trueman Tuck. This time he issued him this warning:

"You have less than two hours. This is your last warning."

Well, guess what, nothing happened. As a result of this threat, Dr. Polevoy notified his service provider and the company that handles his e-mail.

Tim Bolen can be reached at: jurimed2@earthlink.net
His lawyer Carlos Negrete can also be reached at: Info@healthfreedomlaw.com
More Bolen mischief
Bolen's attack on Penni Crabtree - Journalist with San Diego Times Tribune
Tim O'Ranter - a fine collection from Ratbags in Australia
Paul Lee's Healthbase - a possible cure
Tim Bolen - General Team One and Publicist to Hulda Clark
Tim is in reality Patrick Timothy Bolen, and he says he lives in San Juan Capistrano, California. He carries on business out of a private mailbox, and does his best to put a good face forward on behalf of not only Hulda Clark, but he has a long string of defendents from coast to coast the he has either represented, or claimed to have represented. He basically has a tough time dealing with the truth when it comes to his repeated defamations of myself, Terry Polevoy, Stephen Barrett of Quackwatch and Christopher Grell, an attorney from Oakland, California. The three of us have filed a lawsuit against him along with many others in regards to repeated defamatory attacks on the internet. The links below will help you decide who is right.



Patrick Timothy Bolen as seen by
Tim Bolen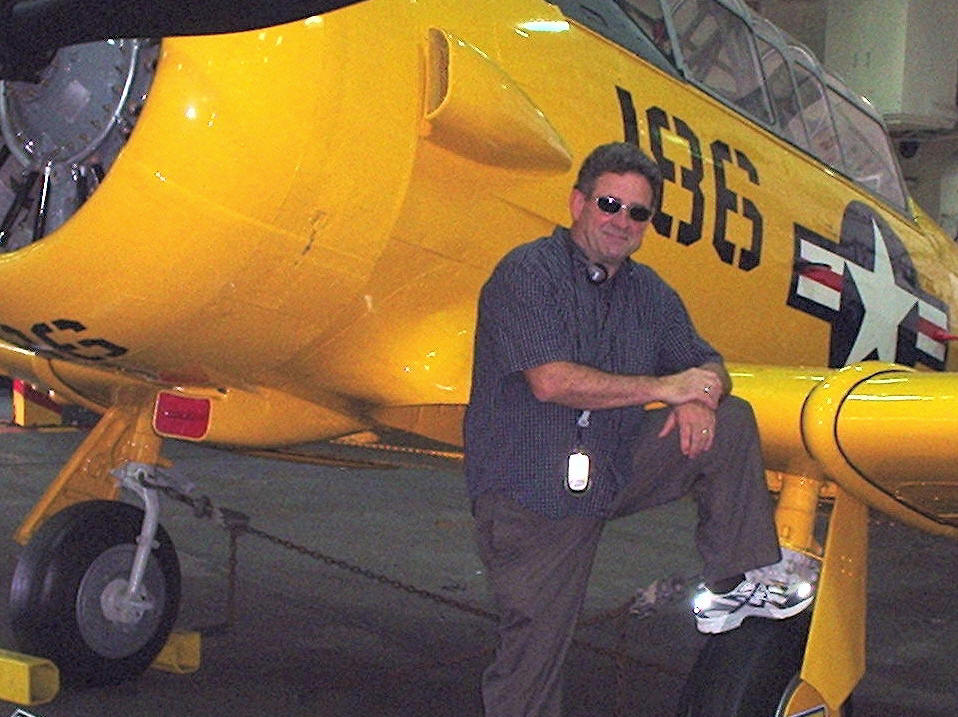 Tim Bolen is a Crisis Management Consultant, and a Consumer Advocate, in the Health Care Industry. He's been in one form of Crisis Management, or another, since 1966. His hobbies, besides mountain hiking, and woodworking, are "war" and the tools and history of war.

You can visit Tim in his hanger too:


www.quackpotwatch.org/opinionpieces/tim%20bolen.htm
Tim O'Ranter as seen by Peter Bowditch

Peter Bowditch has often been the target of the miserable smear campaign by some of the worst quacks on the internet. The cancer quacks don't particularly like him. Peter tells it like it is, and after his recent visit to the U.S. from Australia he left with a really exciting series of tales, and pictures.
Part 2 - Tim O'Ranter's Roost

Tim Bolen, spokesidiot for medical quacks, sends out an occasional email newsletter to "millions of health freedom fighters". These messages are a form of condensed mouth-foam and are usually quite entertaining. There was a rumour once that one of them contained something which was actually true, but it only turned out to be the publication date. Supporters of Bolen were able to prove that such a date existed, but this wasn't considered to be a real truth as there is only a limited set of possibilities. Some of the recipients of Tim's missives were annoyed because they had never asked to be drenched in spittle by a raving loon. These people complained and the anti-spam activists went into action. Tim was not pleased. The following correspondence was leaked to me. Julian and Don are from Spamcop.
Slapp lawsuit withdrawn
SLAPP lawsuit against us was withdrawn by Carlos F. Negrete
Why did Carlos drop the suit? Was it because one of the people that he represented damaged his case by continuing to post on the internet, adding to the tens of thousands of articles already posted. Did one of the original defendents ignore Negrete's advice? And why did Negrete ask that it be withdrawn without prejudice? Our lawsuit will proceed in California against them.

And in an amazingly stupid move that is destined to inflame Nicholas Regush, one of North America's most influencial medical writers, Tim Bolen placed a link to a recent REDFLAGWEEKLY.COM column at the top of his new web site in June, 2002.
Yahoo ignores complaints
Yahoo continues to permit libel and harassment to occur, even after several reported offenses, reported by different victims of the same offender. Further, it does not provide a mechanism for human contact in trying to address a justifiable complaint. Now that Yahoo has acquired E-groups (now called Yahoo Groups), where thousands of posts are made daily, the potential for mischief has increased. Before the acquisition, E-groups promptly cancelled privileges for an individual who had used their services improperly. They also had an open channel to their legal department and rigidly enforced their Terms of Service.

In my opinion, Yahoo is not behaving like a good citizen of the Internet. Please take this into account if you are considering the use of its services.
Tim Bolen & his flock
Who is he, and why does he do what he does, and believe what he believes?
According to sources on the web, and of public record, Tim Bolen has a California drivers license that says he is a resident of San Juan Capistrano, California. When Hulda Clark was arrested in San Diego in 1999, he was hired as her publicist by Geoff Clark, Hulda's son.

Hulda Clark is a well-known author of non-peer reviewed books that claim to CURE any and ALL diseases.

Hulda Clark, a Canadian by birth, has never obtained a medical degree in any university. That means that she had to flee to Mexico to practice, away from regulators and consumer groups. She is also a self-proclaimed "naturopathic" practitioner and actually holds a real PhD. She never does say where or when she obtained her "naturopathic status". She also never tells us why she really left the research she was doing at a major Indiana university in the late 70s.

At the present time we believe that she still operates at a treatment facility in Tijuana, Mexico. She recommends very strange and unsubtantiated treatments for very serious health problems, without having expertise in the field.

Clark has authored four books which are sold in shrink-wrapped plastic in major book stores around the world. They all claim to CURE ALL diseases, like AIDS, Cancer, and hey, just ALL DISEASES.

She says that she has invented machines that can diagnose and treat those diseases. None of her studies have had peer review, none of her work has been published, and yet when her career was threatened in Indiana for practicing medicine without a license, who came to her rescue but Tim Bolen who does business as Jurimed with his wife Jan Bolen.

I have had personal dealings on the internet with Tim Bolen and his legion of Hulda Clark supporters around the world. I have been swarmed by groups of them at quack health expos, and most recently I have had my life threatened. I have been personally libeled and defamed by statements made by Mr. Bolen on the internet. These statements have been passed on by numerous known and unknown persons.

Tim Bolen organized a write in campaign to the medical regulators in Ontario because he felt strongly that I had something to do with the cancellation of an alternative medical radio program.

All of these allegations are part of a lawsuit against Tim Bolen's organization, The Hulda Clark group, and others. The following links are for information purposes only. Consult your own doctor if you have any medical concerns. This web site is not responsible for the lack of credible information regarding claims made for any cures, treatments or methods of evaluations described in the links below.
Defense of Biological Dentists
Tim Bolen ran interference for Doug Phillips - in a West Palm Beach courtroom back in 2001. He was disciplined by the Florida Department of Health. Phillips enjoyed pulling more than just amalgams from his patients' mouths. Incidently, Phillips had no malpractice insurance, and had no assets. But who cared, he was a leading proponent of biologic dentistry. Why haven't other dental boards or regulators taken these proponents to court? Why haven't any of them been sited under RICO? The end result, after a lengthy court appeal, was the irrefutable fact that Doug Phillips had his license revoked permanently in April 2004.

Biological Dentistry - Quackwatch.com's opinion by John E. Dodes, D.D.S. and Marvin Schissel, D.D.S

Some dentists claim that facial pain and even pains throughout the body are caused by infected "cavities" within the jaw bones. These alleged problem areas are not apparent on x-ray films and are not treatable with antibiotics. They are not abscesses, cysts, or periapical lesions, all of which are detectable with x-rays. Certain dentists believe that they can somehow find these cavities and, by surgically scraping them out, cure the infection and resolve the pain. This alleged condition is called cavitational osteopathosis, neuralgia-inducing cavitational osteonecrosis (NICO), or Ratner's bone cavities. Some practitioners even advocate rinsing the "cavity" with colloidal silver and administering chelation therapy and intravenous vitamin C. There is no scientific evidence to support these assertions or the diagnostic and treatment methods based on them.

Tim Bolen and the Radio Queen of Canada - Another Bolen "client"?

Tim Bolen on the Holistic Health Hour - WNJC - 1360 - February 14, 2000

Tim was fresh on the case of Hulda Clark. She was waiting for her trial in Indiana. If you want to hear the story first hand of how Tim Bolen called up the family, and how he learned all there was to know about zappers and syncrometers and how to handle protection for his Dr. Clark, this is the place.

"Holistic Dentistry": A Brief Overview - Quackwatch.com - Dr. Stephen Barrett, and Dr. William Jarvis

A significant number of dentists have gone overboard in espousing pseudoscientific theories, particularly in the area of nutrition. "Holistic dentists" typically claim that disease can be prevented by maintaining "optimum" overall health or "wellness." In the dental office, this usually involves recommendations for expensive dietary supplements, a plastic bite appliance, and unnecessary replacement of amalgam fillings. John E. Dodes, D.D.S., an expert on dental quackery, has remarked that "wellness" is "something for which quacks can get paid when there is nothing wrong with the patient.

Refutation of Clark's treatments - This declaration was filed by Peter W. Pappas, Ph.D, in F.T.C. v. Western Dietary Products Co (Skookum) et al. (C01-818R, W.D., Washington), a case in which the Federal Trade Commission sued a company that was marketing devices and herbal products based on the recommendations of Hulda Clark.
Canadian Links
CBC Radio-TV