Truman Tuck - Tyranny of the Mind
Who is Trueman Tuck?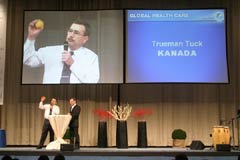 Trueman Tuck - Tyranny of the Mind is a glimpse into the mind of one of the world's most staunch advocates for alternative health products. Mr. Tuck has traveled to the far corners of the world to defend us from the evils of organized medicine and Big Pharma.

He's represented the interests of many manufacturers and distributors of natural health products and devices, both inside and outside of court.


In 2005, he co-authored Death by Modern Medicine (All about Book)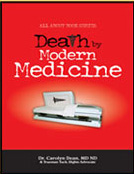 with Dr. Carolyn Dean which won an award as the Most Progressive Health Book at the Independent Publisher Book Awards. The book is published by Matrix Vérité Inc., a company that is managed by Trueman's son Greg Tuck.
Tuck has testified before Parliament, and lobbied the Canadian government against restrictive regulations of natural health products for decades. He has launched a number of controversial lawsuits against the government, including a number of them that included the Queen of England.
To order Trueman Tuck - Tyranny of the Mind.
Subscribers will receive regular newsletters about important court cases and other activities.
---