Renew You
Holistic Medicine Scams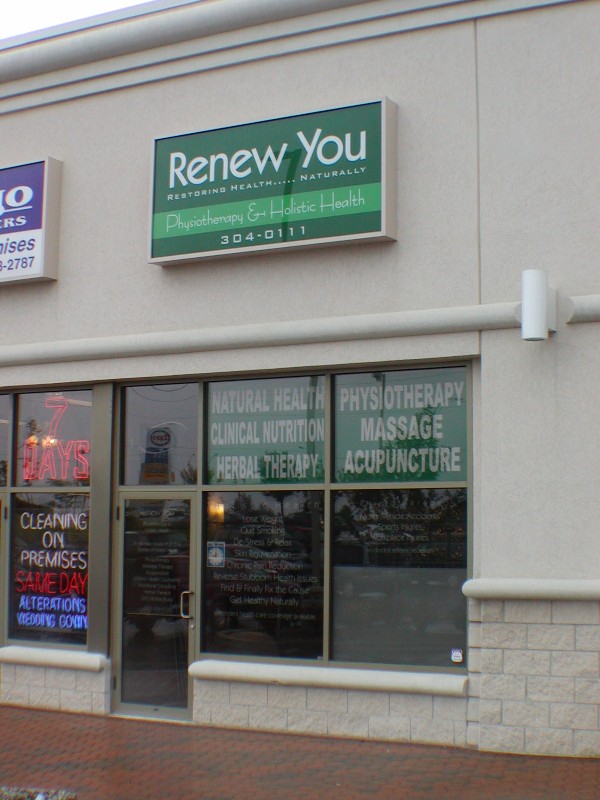 The Dundas Star News has allowed an advertisement to run in its local newspaper since June 2004 for a holistic health clinic in Ancaster, Ontario. The ad that we saw ran on August 20, 2004. Did anyone at the newspaper check on the actual credentials of the owners of the clinic? Had they checked they may have discovered some holes in their credibility. But, newspapers are not supposed to be consumer watchdogs, they are there to make money and provide for the good of the community.

So what good is it to have this type of holistic clinic in their town?

Renew You claims on their web site that two kinds of regulated health professions work at their facility, i.e. massage therapy and physiotherapy. According to the regulations of the physiotherapists and massage therapists they can not be associated with or perform certain kinds of treatments or they could be taken before the disciplinary committee of their respective Colleges. So what would make someone who has the public's trust given to them by law associate with people who have no credentials recognized by law?

One of the worst examples of health quackery today is the use of electronic equipment to diagnose, evaluate and treat serious medical conditions. This clinic uses one of the worst examples of medical quackery I have ever seen.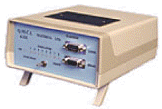 It's called QXCI. We've done extensive reporting of these devices before.
The site is run by someone that claims to have a PhD, and a DSc in Holistic Health. Unfortunately there is no documentation anywhere on their site as to where those bogus degrees were obtained. As well, there is no listing for who the registered health professionals are, and where they went to school.
We've been able to determine however that there is at least one registered physiotherapist, Milena Szpakowski, who is registered by the College of Physiotherapists with the same address. Our sources also tell us that the company admits that they also have five registered massage therapists who work different shifts. They would not reveal their names when called, but they implied that they were all RMTs.
Besides the wacko QXCI machine, "Dr." Honda also seems to be responsible for using the totally bogus method called iridology to treat patients.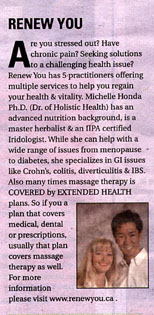 Text of the advertisment

HOLISTIC MEDICINE

Address Your Issues Without Side Effects

* Holistic Medicine
* Clinical Nutrition
* Iridology
* Master Herbalist

Michelle Honda PhD. D. Sc.
Doctor of Holistic Health

Michelle helps clients with menopause, weight
loss, arthritis, osteoporosis,irritable bowel, ADD,
bladder infections, cancer, diabetes, heart,
circulation, G.I. & skin issues-and much more.

Renew You
905-304-0111 * www.renewyou.ca
1100 Golflinks Rd, Ancaster Meadowlands
(In the Golftown & Covers Plaza)

Text of the Health and Wellness Showcase article.
All typos are theirs not mine
RENEW YOU
Are you stressed out? Have chronic pain? Seeking solutions to a challenging health issue? Renew You has 5 practitioners offerning multiple services to help you regain your health & vitality. Michelle Honda Ph.D. (Dr. of Holistic Health) has an advanced nutrition background, is a master herbalist & an IIPA certified iriologist. While she can help with a wide range of issues from menopause to diabetes, she specializes in GI issues like Crohn's, colitis, diverticulitis & IBS. Also many times massage therapy is COVERED by EXTENDED HEALTH plans. So if you a plan that covers medical, dental or prescriptions, usually that plan covers massage therapy as well. For more information please visit www.renewyou.ca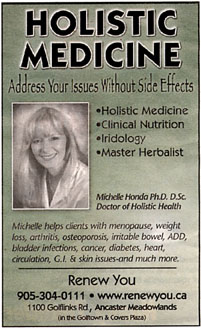 The most objectionable thing about the ads is how she tries to imply that she is a Dr. of Holistic Health. Folks, there is no such thing. In the Province of Ontario it is ethically and morally wrong to pretend to be a health provider of any kind without obtaining those credentials from approved schools of secondary education. To use a fake degree and/or designation is fraud.
Unfortunately, it's a basic fact that not one of the regulated health professions gives a damn about things like this. If the quack doesn't pretend to be a medical doctor, a nurse, a dentist, or any other profession the regulators (colleges) could care less.
Renew You Windows
Click on the images below for details.
Related Regulated Health Professions in Ontario
The following bodies will respond to complaints from anyone who suspects that one of their members is involved in unethical professional or business practices. In the case of the New You facility, they claim to provide both physiotherapy and massage therapy.

College of Physiotherapists of Ontario
230 Richmond St. W,
10th Floor,
Toronto, ON M5V 1V6
416-591-3828, 1-800-583-5885
General email: info@collegept.org
Web: www.collegept.org

Standards of Practice - .pdf file
Code of Ethics - .pdf file

Important Online Contacts

For information about the complaints process:
nchilds@collegept.org



Massage therapy





College of Massage Therapists of Ontario
1867 Yonge Street, Suite 810
Toronto,Ontario
M4S 1Y5
Telephone 416-489-2626
Toll-free in Ontario : 1-800-465-1933
Fax: 416-489-2625
E-mail: cmto@cmto.com



Deborah Worrad (Registrar): deborah.worrad@cmto.com

Pauline Walters (Complaints)pauline.walters.@cmto.com

Policies and Position Statements
Complementary Modalities
Schedule A
Modalities Outside the Scope of Practice

Schedule of Modalities Considered Outside the Scope of Practice of Massage Therapy
The ones in red in the table below may be part of the treatments offered at the New You facility. But their web site does not say if the massage therapist does them.



Aboriginal Healing 
Allergy Testing 
Ayurvedic Medicine 
Bach Flower Therapy 
Biodynamics 
Biofeedback 
Chakra Balancing 
Colour Therapy 
Crystal/Gem therapy 
Herbology 
Homeopathy 
Iridology 


Metaphysical Healing 
Nutrition Counselling 
Orthotics 
Osteopathy 
Personal Training 
Polarity 
Psychotherapy 
Raindrop therapy 
Religious/Spiritual Healing 
Sound Therapy 
Traditional Chinese Herbal Medicine 
Watsu 
Zero Balancing 

Who runs Renew You?
Michelle's site is run by Ron Honda, who I presume is her spouse. In case you wondered a bit more about his other efforts try this one:

Here is their useless disclaimer [emphasis mine]:
The QXCI system is to be used as a Biofeedback Multimedia System. It is designed for stress detection and stress reduction. The device does not diagnose anyone. Only a Licensed Practitioner can diagnose a patient. This system is calibrated to measure the fine and subtle electrical and subspace reactions to a group of biological and medical substances. The sensitivity is set so fine as to pick up the earliest sign of disease and distress. Thus the results might (may) be below the client recognition. The readings should be evaluated by trained staff. No claims are made of the system or results.
There is no such thing as a "Licensed Practitioner" who can "diagnose" a patient. Health professionals are regulated under Provincial legislation. No one is given a "license" in Ontario to provide health care to humans or animals. Holistic Health "doctors" are not regulated by anyone in Ontario. There are hundreds of people in Ontario parading around as if they have a PhD, when they do not. It's basically a very large and lucrative scam. The people who run New You are certainly not alone.
The claims that QXCI can measure anything related to medical substances and measure disease is nothing but baloney. The baloney meter is pinned at the very thought that the QXCI can do anything except one thing. IT MAKES MONEY for the owners of the machine, and it has the potential to drag regulated health professionals before the disciplinary committee of their respective colleges.
Healthwatcher.net has previously covered QXCI in our story about MSB Holistics. Note that those folks also use fake PhDs, too.
Michelle Honda claims to use iridolgy, which is another fraudulent medical scam. We've reported on iridology many times.
Who is Michelle Honda, and where did she get her fake credentials? This quack claims that her degree is just like a degree in naturopathy. Yeah right. I am sure that the naturopathic board in Ontario will love this one.
If she actually rents space to registered massage therapists or physiotherapists their respective colleges will be notified.
Who is Ron Honda? This is a listing from the qxci.com web site for training in this unapproved and unscientific medical scam.

Ron Honda BSC
Renew You
100 Golf Links Rd.
Ancaster, ON L9G 3K9
905-304-0111
rhonda@sympatico.ca 

You can also go to the qxci.com web site and look for more scammers.
Try this quote from QXEnergy, a site that is registered to Ron Honda. That site was registered in December 2002.
The Quantum QXCI scans the patient's body like a virus-scan on a computer, looking for everything from viruses, deficiencies, weaknesses, allergies, abnormalities and food sensitivities. It reports on the biological reactivity and resonance in your body and indicates needs, dysfunctions and vulnerabilities.

Once it's measured vitamin levels, amino acids, nutrients, food substances, minerals, enzymes, natural sugars, toxins, hormone levels, muscle tone, disease, bacteria moulds, fungi, viruses and the health and balance of internal organs, it then compares these figures against a "norm".

It shows up anything that is affecting the health. For example, if someone has digestive trouble, the Quantum QXCI may show that they had salmonella as a child, which is still causing them problems.
Anyone who has visited Renew You and had services from any of the staff please let us know.
Quacks and Bogus Degree Granting Schools
Have you been scammed?
If you have a story to tell about a quack doctor or therapist in your area, please let us know.
Fax your story to 519-725-4953
E-mail to: Cancer Scams