Support HealthWatcher.net

If you would like to support our efforts to combat quackery, health and diet fraud we make it easy for you to donate to the cause.
Anti-Vaccine & Anti-vax News
Autism is Treatable Seminar - St. Clair College - Chatham, Ontario

The Canadian Federation of University Women teamed up with the Autism Canada Foundation in this seminar.
"The objective of this one-day conference is to explain why and how biological issues may have an impact on the physical, behavioural and cognitive health of children with Autism Spectrum Disorder (ASD). Attendees will learn what biomedical treatments are available to them now and how to determine which ones might be best for their child. The presentations are geared towards parents, agency and school personnel, medical professionals and others dedicated to improving the quality of life for those with ASD."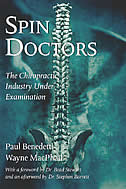 Spin Doctors
The Chiropractic
Industry Under
Fire

Paul Benedetti
Wayne MacPhail

Canadians visit their chiropractors about thirty million times a year, and surveys show that patients are generally satisfied with them. But Paul Benedetti and Wayne MacPhail have another opinion. This book is a powerful endictment of the chiropractic profession in Canada. From the early history of quackery, the latest scam gizmos, strokes, and pediatric abuse to the lack of effective regulation and discipline this book is a real page burner.

Amazon.ca
This book is also available
in Canada from
Amazon.ca