Dec. 23, 2002. 09:10 AM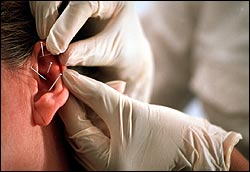 LANA SLEZIC/TORONTO STAR FILE
The Toronto health department warns acupuncture patients to observe health conditions in clinics before treatment. Acupuncturists aren't regulated by government.

Province urged to monitor acupuncture clinics
Get tough, specialists say
PETER EDWARDS
STAFF REPORTER

Hairdressers and bikini-waxers face more rigorous provincial standards than acupuncturists who call themselves doctors, an association calling for higher standards for acupuncture specialists says.The comments by a spokesperson for the Chinese Medicine and Acupuncture Association of Canada yesterday come in the wake of news that 12 people in the Greater Toronto area have become infected with the same bacteria after reportedly visiting two clinics in Toronto."We have no regulation at this point," Joanne Pritchard-Sobhani, an acupuncturist from Brockville, said in an interview yesterday.Her association, which has 800 members across Canada, has been lobbying the provincial government since 1983 for regulation of the profession. In 1994, it delivered a petition to the province with 10,000 signatures on it."Let's not delay one more second," she said. "I can't tell you how devastated I am (about the infections). ``It's not necessary."Her association has been talking with the province about regulating acupuncture in Ontario, but nothing has been set up yet, she said.Pritchard-Sobhani noted that 30 states in the United States and the provinces of B.C., Alberta and Quebec have had regulation for years.She said that her own training in acupuncture took more than four years, but other people call themselves acupuncturists with less than six weeks training.The city of Toronto has bylaws requiring "holistic practitioners" like acupuncturists to show they've been trained, run a clean office and that they are members of an association, but Pritchard-Sobhani said city officials don't know how to properly evaluate the status or training of practitioners.Toronto Public Health has been trying to contact more than 100 people in the GTA who may have become infected at two unnamed clinics, one on Bathurst St. in North York and the other in a private residence on Islington Ave.The two clinics have been shut down.All patients who visited the clinics between April 1 and Dec. 16 have been warned they may have been exposed to improperly sterilized acupuncture needles. Those patients have been told they should be tested for HIV, hepatitis B and C, and a skin infection called Mycobacterium abscessus.Acupuncturist Sandra Testaguzza told health officials last week that needles had been reused and that there had been difficulty sterilizing equipment last summer.She could not be reached for comment yesterday.Testaguzza is listed as having a permit in acupuncture from the Quebec Medical Board and receiving the title of doctor of acupuncture from the Professional College of Chinese Medicine of Ontario. She is also featured in Chatelaine magazine's Who's Who of Canadian Women.Pritchard-Sobhani said she's not aware of details of the Toronto case.She said that top-quality needles cost about a nickel, and that some practitioners reuse them after an attempt at sterilization.She said she worries about "charlatans" offering quick courses in acupuncture."You can buy a doctorate from a group of people," she said, adding that unsuspecting students sometimes pay $5,000 to $8,000 for correspondence courses that don't properly train them."You have a lot of quasi-professional groups," she said.Meanwhile, Brenda Colucci of Woodbridge said she's worried about her health after being treated by Testaguzza last July and August.Colucci has been told by a medical doctor she'll need six months of antibiotics and testing for HIV and hepatitis B, after receiving acupuncture for hip and shoulder problems.She said she would like to talk to other patients who have been infected by the needles to hear what steps they are taking."I'm looking for other people who have been infected," she said.

Legal Notice:
- Copyright 1996-2003. Toronto Star Newspapers Limited. All rights reserved. Distribution, transmission or republication of any material from
www.thestar.com
is strictly prohibited without the prior written permission of Toronto Star Newspapers Limited. For information please contact us using our
webmaster form
.